My wife is a scheduling person. She has a schedule for just about everything when it comes to homeschooling. The more that I am around other homeschoolers, I am learning that they do as well. Either they are all like-minded or structured or very strange! Take some time to sit down with your wife and ask if she would like to talk out her schedule for the coming year. Just listen to her and let her go for a while, don't try to fix it, don't point out any flaws, just listen.
Once she lets it all out and ask you what you think, then you can rip it to shreds! I am just kidding, if you try that you will be scheduling with the dog for a place to sleep. Talk back through the schedule with her and let her know what you see as great points and some that may need work or could be issues along the way. Then see if she would like some help in working those issues out.
Supplies. One word that covers everything that will be or could be used over the next several months. One word that will make countless homeschooling moms stress into the early hours of the morning. Men, have you talked to your homeschooling mom yet about supplies? I did a book review on Rick Boyer's book The Father's Role in Christian Home Education and in the book Rick has this to say about supplies:
She's much more organized than I am, and keeps better track of things. She's earned my trust over the years by making wise decisions and stretching a dollar until the eagle screams. I realize not every woman has earned that much freedom, but it's lovely when it works. If your wife can handle it, this gives her the liberty to buy when the buying is good. (pg. 13)
Men trust your wife. It's that simple. Trust your wife to purchase what is needed for your homeschooling kids. My wife and I will discuss big-ticket items over $100 or so, but I leave the smaller items completely up to her. It gives her a bit of freedom to get what is needed without her having to get approval for everything.
"Yep, the little lady has the books and stuff she needs to get going, I don't know why she is still fussing about these lesson plans. That stuff is in the book." Most guys think just that, I know I did. There are chapters and units in the books, however someone (the homeschooling mom) has to break it down into workable lessons for the kids. This can be an ongoing, changing and sometimes vicious circle. Getting lesson plans ready for your own kids is bad enough but then bring in a co-op that needs lesson plans as well and things get even more fun. So what is a guy supposed to do? How about take the kids and leave the house for a few hours? Go geocaching, fishing, hike in the woods, go to a state park or somewhere with the kids and let your wife have some quiet time to think and put things in order. She will appreciate the time and peace to work on things and you will get to enjoy your kids for a while.
So men, as the "beginning" of homeschooling is approaching, watch out for the signs of spastic homeschooling syndrome in your wife. Take the steps I have mentioned above and work with your wife. She is doing a great thing for your kids, give her a hug and some love and if all else fails, work out the schedule with the dog. I would like to hear how these tips work for you or how big a dog house needs to be to be comfortable.
This post is part of a link up with Marcy over at Ben and Me! Head on over and read the other interested letter S posts.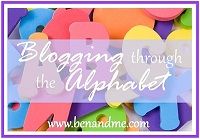 Ok guys out there, is your wife getting a bit spastic right now? Is she running around mumbling about her schedule is not being done, getting homeschooling supplies and getting her lesson plan finished? If so, don't worry, but stay out of her way! Not really, just stay close, she will need you.